Hello, everyone.
We just recently finished very interesting project in St Albert. We installed corrugated cladding and standing seam roof. We really proud of the project despite multiple interesting challenges. On this project we introduced hidden soffit system to our clients. This allowed us to keep sleek and clean line without sacrificing on proper ventilation of the roof.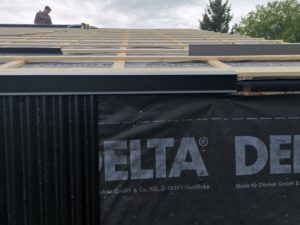 As usual, we did standing seam roof over double strapping. This feature greatly benefits customers with additional ventilation, lower noise level, decreased energy bill, healthier building environment and many more.
     Below you can find pictures from this project.
     Call us now and we will be more than happy to assist with any project. We are the only exclusively residential metal roofing company in northern Alberta who installs ALL types of metal roofs. Including Metal Tiles, Interlocking Metal Shakes and Slate, Standing Seam roofs, Screw-on roofs and many more.