December in Alberta – best time for roofing cottage, isn't it? =)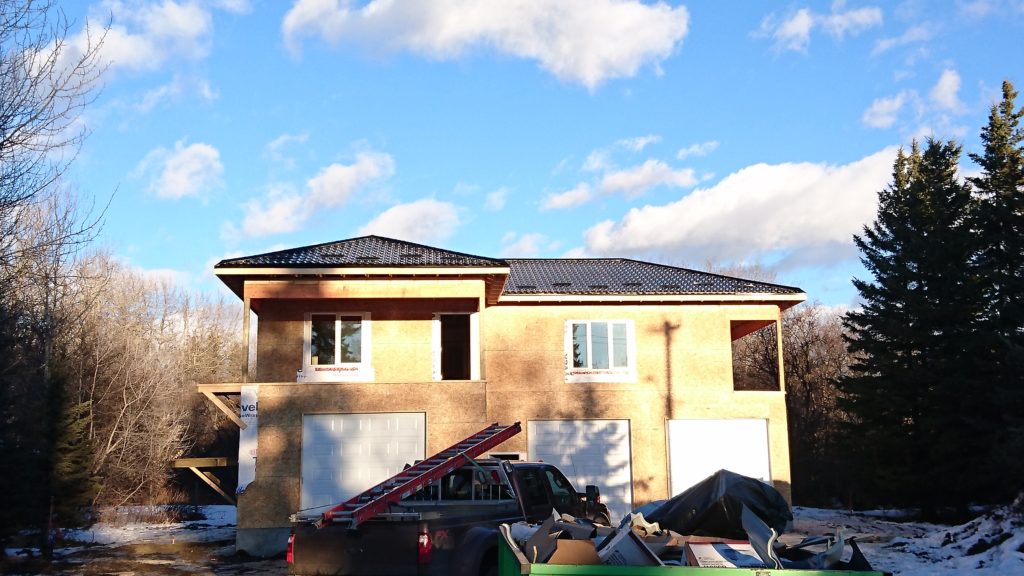 The project I will tell you about was exactly across the road from the one we did couple months ago. It was on our favorite Pigeon Lake, so we were enjoying amazing views of the lake through the entire project. This time we were installing roof on a brand new cottage still being in construction. That brought us a number of challenges. First challenge we had, was no power at site. But not a problem – we can provide up to 10 kW of portable power when needed.
The other challenge was that we had to work over trusses. Builder did not install any decking whatsoever. It was an unpleasant surprise but not a huge problem. Let's see how it looked  when we first arrived on site.
In situations like this one, it's mandatory to install synthetic underlayment. This membrane serves couple of the roles. First – it allows roof to breath through the soffit. Second – protects inside of the house from any condensation occurring on metal during rapid temperature changes. This is very important factor, due to any metal roof "sweats", even when it is installed over strapping like in this case.
To make navigation easier we decided to install underlayment and framing simultaneously. It was a big win,  since in a couple of hours we were able to finally stand still.
We made sure that membrane overlaps well on hips and on horizontal framing of the house. This resulted in  30% more use of the membrane. Our framing made house a bit more stronger and stable. And in the end of the day we had a chance to enjoy amazing views of Pigeon Lake.
We made all the pipes and intakes water- tight. But also did extra framing around to make these weak points stronger and safer. Next step was to begin installation on starters and valley.
So now we were ready for paneling.  Note how all the pipes and goosenecks are done. Since we use nibbler (not grinder), we can guarantee that paint on fresh cuts will be safe. It is especially important on areas like valley, where fresh cut is exposed to water and ice. Note how snow guards cover the entire perimeter. This will protect gutters and owners for many years from any sliding snow. Here are the pictures
And here are couple of shots of the cottage when we were done. I am sure that our customers will enjoy their cottage for years with our roof and these breathtaking views of the lake.